Posted by Jayden Sepe / Delainey Peterson on 2nd Nov 2022
These classy, elegant poinsettia cupcakes are super easy to decorate and are sure to impress your holiday guests.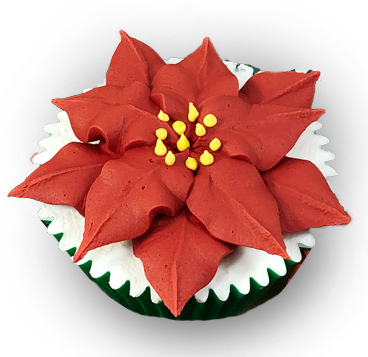 Cake Decorating Products Used:
How to decorate your cupcakes:
Bake your cupcakes and allow to cool for at least 45 mins – 1 hour.
Make a batch of buttercream icing and reserve a small amount of white to make the gold flower centers. With the rest of the icing tint it all red.
With tip # 366 and your red buttercream in a piping bag start by piping the bottom 5 petals , then staggering the top 5 petals on top.
With tip # 3 and your gold icing in a piping bag pipe 12-15 dots in the center of the poinsettia.
Enjoy these fun poinsettia themed cupcakes this Christmas with family and friends.