Posted by Jayden Sepe / Stacy McKay on 22nd Apr 2023
Dads are the grilling masters but what a perfect way to celebrate Father's Day than with a sweet BBQ treat just for him !!!
Decorating Supplies Used: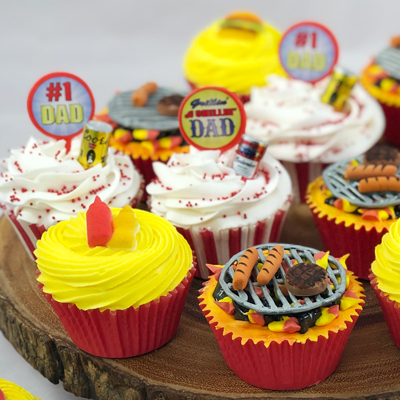 Cupcake Decorating Supplies:
How to decorate your cake:
Step 1: A few days in advance create and mold your corn, hamburger and hot dogs and allow to dry thoroughly. Place on parchment paper and dry for 24 hours on one side, flip over and dry completely. Depending on thickness of the gumpaste this could take another 24 – 48 hours. Dry in the open air and do not put in any containers or it will not dry properly.
Corn on the Cob: Color using Electric Yellow. Place lines in the cob using a small skewer stick.
Hamburger: Color using chocolate brown and add texture with a towel or a small ball tool
Hot Dog: color usingelectric yellow, warm brown and electric red.
Make royal Icing as per the recipe and color about 1 – 2 cups gray using black americolor food coloring. Using the templates provided, place parchment paper over the top and pipe the grill for the cake. Start with tip # 8. Using the template provided and the same technique with tip # 3 for the cupcakes grill. The amount used will depend if you are just doing the cake or cake and cupcakes. Allow a few days for the grills to harden.
Step 2: Once the "grill" and the "food" is hardened you can start shading them for a more realistic look.
Grill: Paint with Edible Art Silver and let dry
Corn on the Cob: Dust and paint with sunflower, cocoa, and midnight petal dust.
Hamburger: Dust and paint with cocoa and midnight petal dust. Add the "BBQ" lines with the black edible writer.
Hot Dogs: Dust with cocoa and cornelian petal dust.
Step 3: Bake and ice a 9" x 4" cake in black buttercream icing. On the top of the cake add some coal chocolate rocks for the briquettes. Mix yellow and orange buttercream icing together for the "flames" and pipe those at random with Tip # 352. Add the grill on top with a bit of icing around the edge to hold it in place. Put the "food" on top of the grill and stick with a bit of icing underneath. Add some more random "flames" amongst the BBQ food. Add a small flame border with coal chocolate rocks and the Father's Day Cake Topper on the side.
Step 4: Bake and cool your cupcakes. Using Tip # 1M or # 867/8B swirl your icing in a clockwise motion 1 ½ times around. If you are making the grill cupcakes use tip # 349 to pipe the flames and add the rocks before placing the grill on top just like the cake.
Step 5: Decorate with fun sprinkles, pressed sugars or cake pics as mentioned above. With cupcakes there are so many options and so many ways to make a fun celebration treat.
Jayden Sepe, owner of Scoop-n-Save, professional cake artist and sprinkle aficionado enjoys helping people develop their cake decorating super powers. Jayden studied culinary arts with a specialty in baking and pastry at the Pacific Institute of Culinary Arts and went on to open Forbbiden Sweets where she wowed supplying creative cakes, cupcakes and cookies. Since taking over at the Scoop, Jayden has indulged her shopping addiction to bring new and trending decorating products into the store.