Posted by Jayden Scott | Leslie Williams on 7th Feb 2018
This festive cake takes the popular unicorn cake and does a Christmas makeover.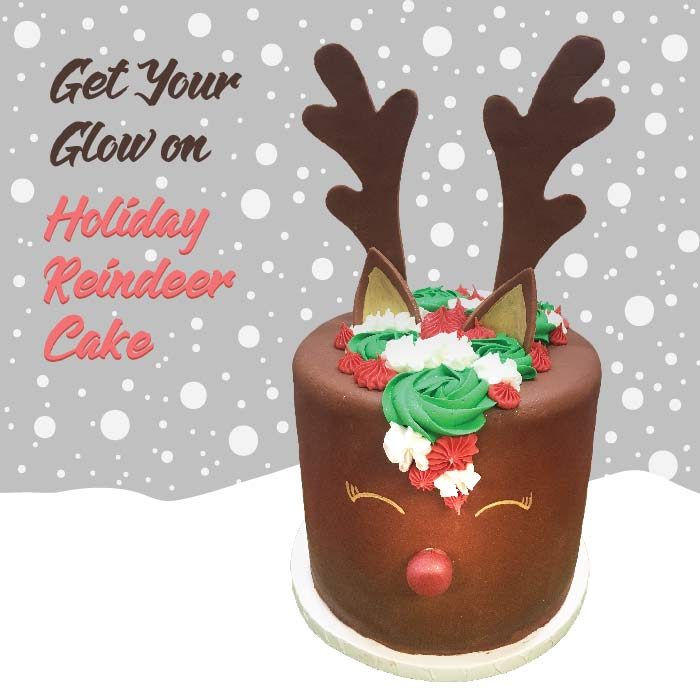 What you need

Make the antlers and ears
The antlers need to be made at least 48 hours before the cake so there is time for them set. Mix a small amount of the Fat Daddio chocolate brown fondant with a heaped teaspoon. Kneed fondant till the CMC powder is well distributed.
Print and cut out the antler templates
Roll out fondant to appoximately 1/8" thick
Place your template on the fondant and cut around
Place cut out antlers on wax or parchment paper to dry for the first 24 hours on one side.
24 hours later flip antlers over to help dry completely.
Once the antlers are hard attach lolli sticks or skewers with a bit of melted chocolate (leave approximately 3" of stick below the the antlers).
Let chocolate harden and place aside till cake is decorated in an open container in a dry area. ( not in the fridge)
Make the Cake
Follow our pound cake recipe
Once your cakes have baked and cooled trim any rough edges and level the tiers.
Use buttercream icing to place the two tiers together and crumb coat the cake. (a crumb coat is light layer of frosting that you can still see the cake through - we are just giving the fondant something to stick to).
roll out your fondant to 1/8" thick and 20" accross
Place the fondant centered on cake and smooth down (you can use your hands but (shameless plug here) if you try a fondant smoother you will never go back).
Trim the excess around the bottom of the cake.
Decorate
Make 3 bowls of buttercream - add different food colors to each pot ( we used Americolor Super Red, Leaf Green, Bright White).
Starting with the biggest tip - this is going to be your most dominant color ( we used green) and start piping rosettes (make a small circle to give a larger effect). Place these sporatically up the "spine" of the cake and where the forehead of your reindeer is.
Use the piping bags with the other colours to drop smaller flowers in between the the rosettes
Draw the eyes with Roxy and Rich Highlighter Gold Luster dust mixed with alcohol to make a paint - you can also use edible markers.
Stick the antlers into the top of the head and push lightly down until they are flush with the top of the cake.
Roll out a small ball of fondant (either brown for a plain reindeer or red for rudolph) and stick to the face using a little melted chocolate as glue.